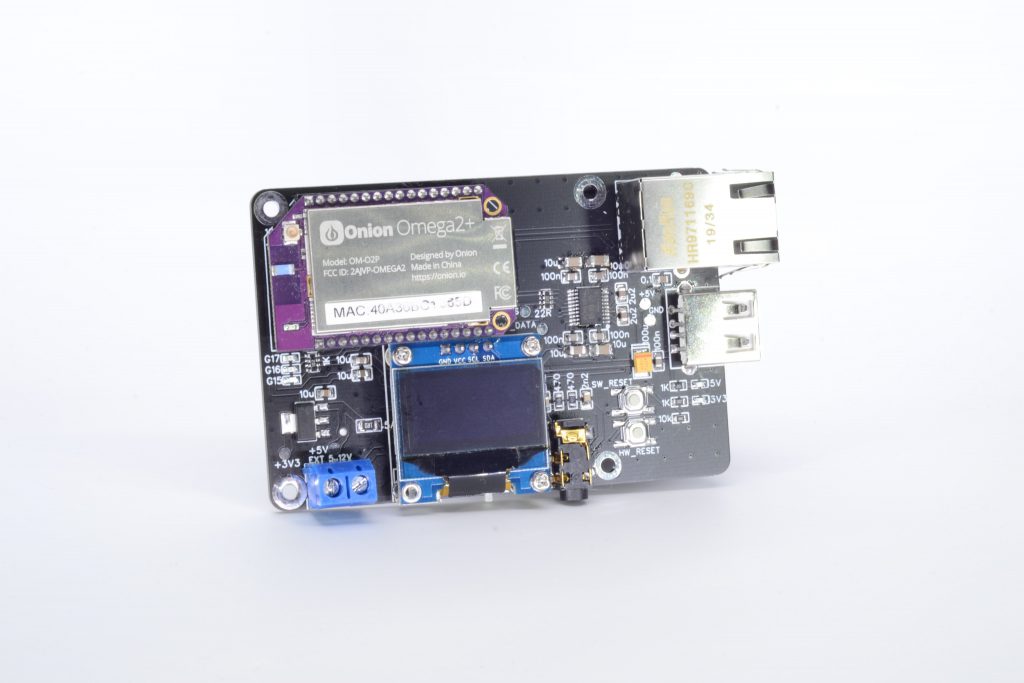 What is it?
This is Onion Omega Dock, that additionaly to standard Power, USB and Ethernet interfaces deliveres Hi-Fi audio output. It uses native I2S output of Onion Omega together with Texas Instruments' wonderful PCM5102A Hi-Fi DAC.
Why did I build it
I want to bring modern hobbyist technologies to the world of 'large speakers and amps' tech. I build systems that keep that old-schoolish look, but adds online streaming and smart remote capabilities. I build this project as a core of such solution, where small and barely visible box with Onion Omega in it drives large Pro-sized and Pro-sounded audio solution.
Why HIFI Dock?
It is simple yet powerfull solution, that adds audio capabilities to your Onion Omega based project. Audio quality complies with Hi-Fi standards, which means it is suitable for high quality audio streaming, not just some 'beeps'. Also it is first Raspberry Pi Size compatible dock, therefore you can use on of the many Raspberry Pi cases of your preference, to give your project finished look (something that you shouldn't underestimate;).
Why ONION OMEGA?
It's capable and feature rich
It's compact and low power
It's reasonably priced
It's runs OpenWrt and has great software support. No cross-compiling skills required;)
Key features
PCM5102A 32bit DAC
Up to 384 kHz sampling rate
-112 dB typical noise level
Dedicated ultra-low-noise regulator for audio interface
Single mini-jack output
Raspberry Pi 4 compatible form-factor
Ethernet, USB and Power capabilities for your Onion Omega.
Powers either from mini-usb, or from external power source (up to 12V).
OLED screen header
3 GPIO LEDs
Credits
Thanks Texas Instruments for great audio interface for great price
Thanks Onion Omega Team for this great board and development platform